What are the Different Types of Carpet?
Merkel Carpet One Floor & Home is your locally owned flooring retailer and carpet expert. When it is time to replace the carpet in your home, our flooring professionals are here to help guide you through our selection. We can help you narrow down your selection based on your lifestyle and the warranty level you wanted using our Select-A-Floor™ system. Carpet continues to be a popular home flooring choice due to its comfort and unmatched style. Not all carpet fibers are alike, and can have an impact on how a carpet will perform and function in your home. These fibers also impact the style of the carpet and how it will look in your home. Finding your new carpet is more than just choosing a color, you'll also need to consider how you want your new carpet to function in your home.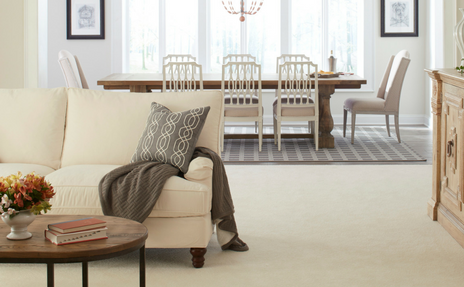 Types of fibers used in carpets include nylon, polyester, triexta, olefin/polypropylene, and wool.
Types of Carpet Fibers
Nylon is one of the most popular synthetic carpet fibers. The benefits of nylon include top quality performance and long lasting looks. When treated, nylon fibers can be stain resistant.
Polyester is a less expensive synthetic fiber compared to nylon. New technology is changing the chemistry of polyester and making it more durable than what homeowners have come to expect.
Olefin/polypropylene is best for low traffic areas like dining rooms or formal rooms. These types of carpets feature more decorative patterns and are design to be looked at rather than be lived on.
Wool is one of few natural fibers and is considered an eco-friendly option because it is sustainable. Wool is considered a hypoallergenic option because it traps allergens and stops them from floating into the breathing zone.
Triexta is a cousin to polyester. It is inherently stain resistant, and unlike nylon fibers it does not need to be treated in order to be stain resistant. Many embrace triexta as an equal option to nylon.