Karastan Carpet
Taking flooring and soft surface in a bold new direction, Karastan introduced America to the concept of walking in comfort. With innovative ideas that formed the industry standard, their products are made to last in your home for years. You can spend more time enjoying your floors rather than worrying about keeping them clean and looking new. Our flooring experts can help to match you to a carpet that suits the needs of your home and your lifestyle.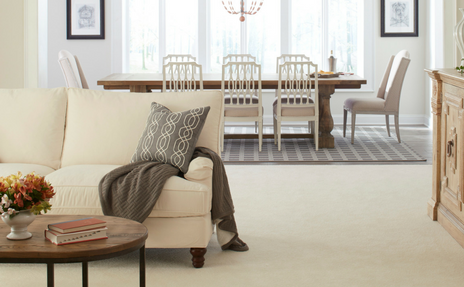 Why Choose Karastan?
Karastan carpets are made to be extremely durable and can handle everything from heavy foot traffic to accidental stains. We have carpets that are not just meant for durability. Many of our options feature incredible styles that range from contemporary to trendy and everything in-between. All Karastan carpets are made to be long-lasting and resistant to staining. Karastan wool carpets, for example, will naturally resist dirt and other particles. Karastan offers a seemingly endless number of designs and patterns, each of which can add luxury and value to your home setting.
Our Karastan Selection
Karastan also offers SmartStrand carpets. SmartStrand is a perfect choice for homes with children and pets.
SmartStrand Silk
Choosing softness doesn't mean you have to give up performance. Karastan has packed more than 700 silk-like fibers into one yarn that is ultra-soft and incredible durability.
SmartStrand Forever Clean
SmartStrand Forever Clean is the only carpet with stain resistance that lasts a lifetime built into the core of the fiber. Other carpets use post-production protections that wash and wear off over time.
Be sure to visit us at Merkel Furniture Carpet One Floor & Home to take advantage of our selection of Karastan carpets!